Nensi Dojaka on Tuesday won the 2021 edition of the LVMH Prize for Young Designers at a star-studded ceremony in Paris, marking the physical return of the prestigious award after last year's final was canceled due to the coronavirus pandemic.
An Albanian women's wear designer based in London, Dojaka is known for her lingerie-inspired slip dresses with graphic cutouts and sensual strap details, whose fans include Bella Hadid.
The Central Saint Martins graduate is preparing to stage her first physical runway show on Sept. 17 during London Fashion Week.
French actress Isabelle Huppert revealed the winner at the Louis Vuitton Foundation in the presence of jury members including Dior's Kim Jones; Virgil Abloh of Louis Vuitton; Stella McCartney; Marc Jacobs, and Loewe artistic director Jonathan Anderson.
Dior's Maria Grazia Chiuri took part in the deliberations, but left before the ceremony, while Vuitton women's wear designer Nicolas Ghesquière was unable to attend.
London-based Dojaka beat some 1,900 applicants from 110 countries to walk away with a grand prize of 300,000 euros, plus a year of coaching from experts at luxury giant LVMH Moët Hennessy Louis Vuitton, parent of brands including Vuitton, Guerlain, Dom Pérignon, and Sephora.
"Thank you so much. I wasn't expecting it at all," the emotional designer said as she accepted the award.
Jacobs said the jury unanimously voted for Dojaka. "That has never happened as long as I can remember," said the U.S designer, who has been a member of the jury since the prize's inception in 2014.
"She did a very good presentation. Her product is very original with a unique point of view," said Delphine Arnault, the force behind the prize and a key talent scout at family-controlled LVMH.
"The quality is extremely good, and she's very humble. We found her very moving. She's terrific."
Jones said he was won over by the sophistication of the line. "You can see the owning of a category and the development that you could potentially do with that.
I don't know any woman that wouldn't want to wear her dress and feel good," he said.
"Her little black dress kind of won us over. It can be a new classic," Abloh concurred.
McCartney said that as a juror, she was looking for creativity and a sense of sustainable work. "I think that she has both of those elements.
For me, it's very signature, I recognize her work immediately, which I think is very rare in the industry," she said.
"I love that it's a woman dressing women, obviously, but I think that she has a massive opportunity ahead of her, and with the platform and the mentoring and the money, I think that her brand really has a future," McCartney added.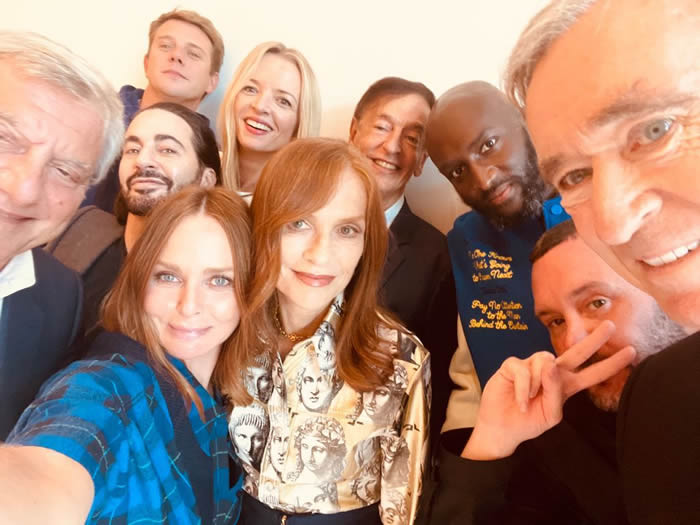 The jury had a harder time deciding the winner of the Karl Lagerfeld Special Jury Prize.
Following a spirited debate over lunch with LVMH chairman and chief executive officer Bernard Arnault – immortalized by McCartney with a selfie – they gave the award to three talents: KidSuper designer Colm Dillane; China's Rui Zhou, the designer behind the genderless Rui label, and Lukhanyo Mdingi from South Africa.
Brooklyn-based Dillane's artist collective burst onto the Paris scene last year when he made his virtual debut at Paris Men's Fashion Week with a stop-motion short film made using modified Barbie dolls dressed in miniature versions of his streetwear designs.
He lugged his collection over to Paris in cardboard boxes that he checked in as excess luggage. "It was hilarious," he said of his typically improvised arrangement.
Mdingi has shown his women's and men's wear at New York Fashion Week and as part of the Pitti Uomo trade show. As part of a partnership with the Ethical Fashion Initiative, he has expanded production to Kenya and Burkina Faso.
"There's a certain kind of hybrid that we're trying to create between artisanal craft and something that's also quite modern and refined," he said.
"You're providing opportunities for work, but the exchange they give back to our label is a beautiful sense of integrity and honesty that man-made machines don't always necessarily have."
Zhou's intricate, web-like bodysuits and dresses bare as much as they cover. Small knit segments are stretched out and tethered with beads, creating unique geometries of fabric and flesh.
Based in Shanghai, the 27-year-old designer graduated in 2018 from Parsons MFA Fashion Design and Society program.
Each will benefit from a grant of 150,000 euros and a one-year mentorship program from the LVMH Group.
"I've always believed that the power of a collective is far greater than that of a singular, and I think this prize is testimony to that," Mdingi said in his acceptance speech.
"We actually should start a WhatsApp group," he suggested to his fellow winners afterward.
Dillane made history by swearing during the ceremony, which was broadcast live on LVMH's YouTube channel and a dedicated website, lvmhprize.com. "We really are f—king awesome," he exclaimed.
The most openly competitive of this year's finalists, the former soccer player said he wasn't disappointed at having to share the prize.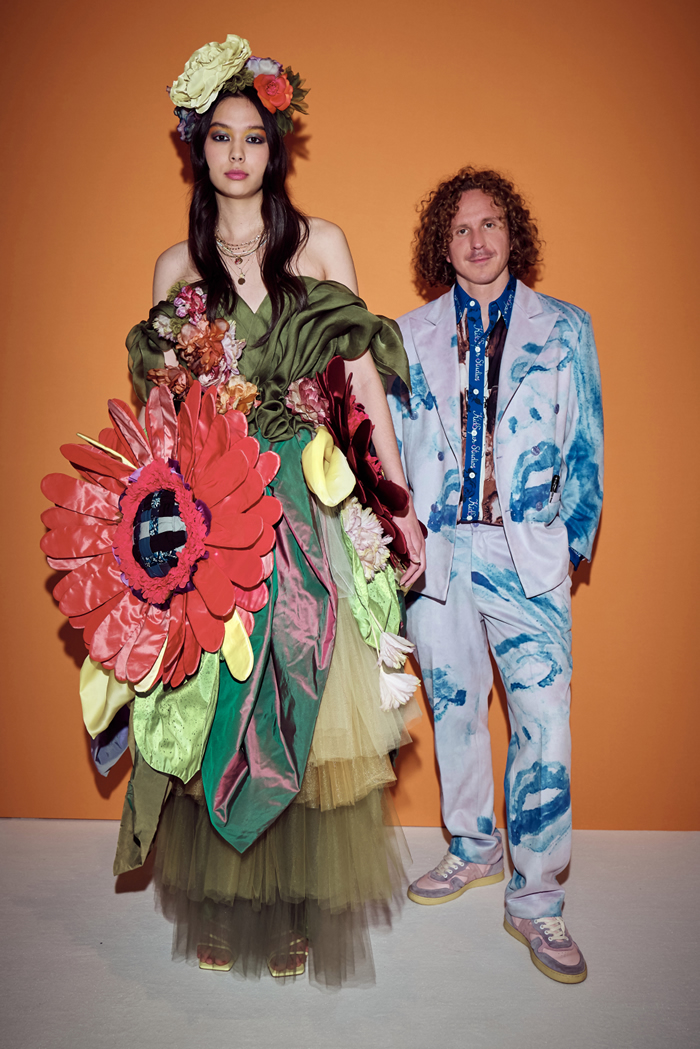 "It feels good to be a part of it, and I understand the different brands, you know what I mean? Like, I respect each of them, and there's no competition," he explained.
"I think all of us come from outside Paris Fashion Week and Paris fashion, so just being able to have those conversations is crazy."
The LVMH Prize is open to designers under age 40 who have presented and sold at least two collections of women's, men's, or unisex ready-to-wear.
It has previously been awarded to Thebe Magugu — who won the 2019 edition; Doublet, Marine Serre, Grace Wales Bonner, Marques' Almeida, and Thomas Tait.
It has also boosted the careers of its runner-up special-prize winners, which include Rokh, Jacquemus, and Hood by Air.
Last year, the top prize of 300,000 euros was divided equally among eight finalists.
After taking part in a digital showroom in April, the nine finalists of the 2021 edition were able to travel to Paris to present their collections to the judges in person, with some quarantining for up to 10 days in order to be physically present at the event.
Due to ongoing sanitary restrictions, only a handful of editors were in attendance, stripping the event of some of its usual buzz. Guests had to present proof of vaccination and undergo another COVID-19 test on arrival.
After the ceremony, Abloh rushed over to comfort the five designers who were leaving empty-handed. He recalled that as a finalist of the prize in 2015, he had dealt with a similar sense of disappointment.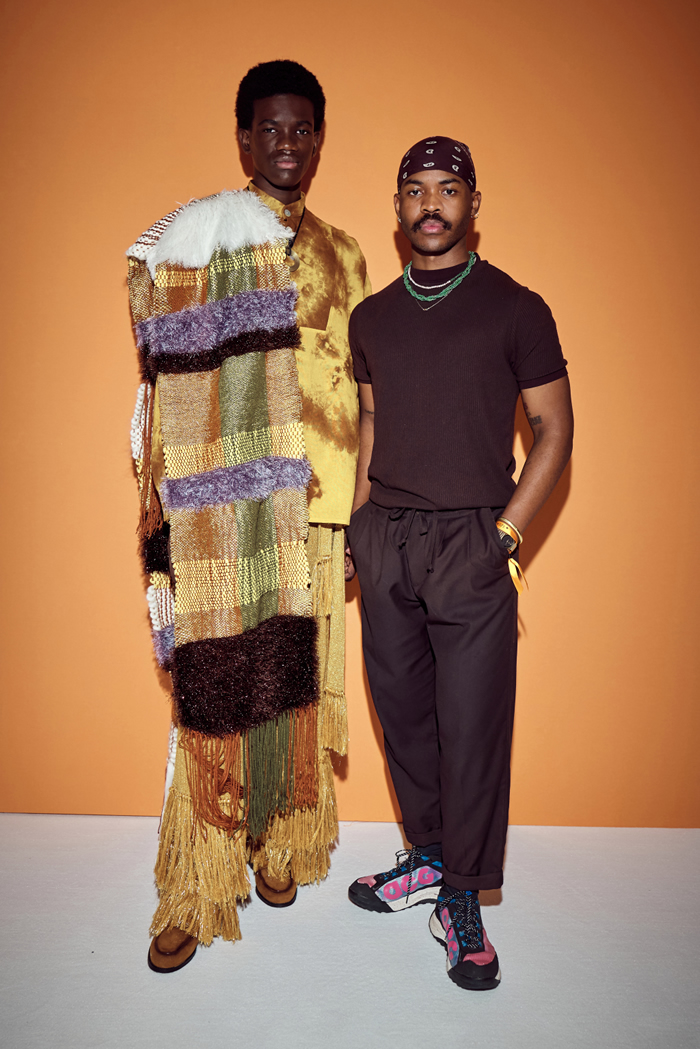 "I was here, and I thought everything was riding on winning, right? And no one had told me that you've already won. And I'm not saying it as a consolation.
Legitimately, you're recognized by the most passionate people," he told Bianca Saunders, Charles de Vilmorin, Christopher John Rogers, Conner Ives, and Kika Vargas.
"Realize that you've won – it doesn't feel like it – but that your message is heard," he continued, promising to share his contact details with every participant.
"This is a group that supports talent. The prize was for you to come here. This is not the end of the journey."
Dojaka plans to use the prize money to expand her team, noting she could use help with production as she recently began working with a new factory in Italy and using more sustainable fabrics.
"I'm also going to expand a bit the offering that I bring, so I will do more accessories and make the brand a bit more whole," she said.
"When I started, I had a very young customer base, and now with the collection developing with a bit more tailoring and stronger looks, it's shifting a bit, so it's a wider audience and I want to make it a lot more versatile. Now, I will have even more opportunity to develop stuff," she added.
After showcasing her graduate collection in 2019, Dojaka created a capsule collection with Ssense and was selected to show as part of the emerging designer support platform Fashion East.
She was selected for the first edition of the mentorship program launched last fall by No.21 founder and designer Alessandro Dell'Acqua and Tomorrow London, and now has 30 points of sale across the world, including MyTheresa and Matchesfashion.
Though she did not expect to win given this year's stiff competition, the designer felt her presentation went well.
"While doing it, I gained a bit of confidence as well, and that's because they were so nice. The questions asked were quite thought-provoking as well, so I think it was a good little session," she reported.
"One of the questions was about, for example, the hanger appeal of the clothes, which is something that I always want to think about and something that is very important for the sales," she said.
"I came from a lingerie background. Because of that, I pay a lot of attention to smaller details, so I think this was the point of difference."
In a town with her father and boyfriend, Dojaka planned to attend a party on Tuesday night with the other prize participants before rushing back to London.
"I can't celebrate because I have to finish the collection for the show. Now I feel even more pressure than it has to be really good," she said.
Read the original article on WWD